INTEGRATIVE SPORTS MASSAGE
~ FLUIDLY INTEGRATES FASCIAL STRETCH THERAPY, MASSAGE THERAPY, STRUCTURAL JOINT BALANCING, TUI-NA ACUPRESSURE TREATMENT, CUPPING, AND REIKI AS NEEDED INTO THE SAME SESSION.
~ SESSIONS BEGINS WITH DEEP TISSUE WORK. AS RESTRICTIONS AND TRIGGER POINTS ARE FOUND THROUGHOUT THE BODY, MULTIPLE THERAPIES ARE INCORPORATED TO FACILITATE A GREATER AND FASTER RELEASE OF THOSE RESTRICTIONS.
~ USED TO TREAT THE BODY'S SOFT TISSUES INCLUDING MUSCLES, TENDONS, AND FASCIA.
~ SESSIONS ARE FOCUSED WITH THE GOAL OF REALIGNING DEEPER LAYERS OF MUSCLE AND FASCIA AND TREATING AREAS OF TENSION AND PAIN THROUGH A MULTITUDE OF BODY WORK MODALITIES.
~SESSIONS ARE OFTEN DESCRIBED AS "INTENSE" WITH THE THERAPIST CHECKING IN MORE OFTEN REGARDING PRESSURE THAN WITH A RELAXATION MASSAGE .
~ EACH SESSION IS SPECIFIC AND CUSTOMIZED TO THE CLIENT'S NEEDS.
~ INTEGRATIVE SPORTS MASSAGE IS ESPECIALLY HELPFUL FOR:
          CHRONIC ACHES AND PAINS, CONTRACTED AREAS SUCH AS A STIFF NECK, LOW
          BACK PAIN, LEG MUSCLE TIGHTNESS, AND SORE SHOULDERS.
~ INTEGRATIVE SPORTS MASSAGE CAN HELP YOU PERFORM BETTER IN COMPETITIVE SPORTS AS WELL AS RECOVER FASTER.
~ INTEGRATIVE SPORTS MASSAGE IS NOT JUST FOR ATHLETES AS EACH SESSION IS SPECIFICALLY TAILORED TO EACH INDIVIDUAL'S NEEDS.
~ ALL SESSIONS ARE COMPLETED WHILE THE CLIENT REMAINS DRESSED IN ATHLETIC CLOTHING:
          FEMALE CLIENTS ARE ASKED TO WEAR A SPORTS BRA AND ATHLETIC SHORTS.
          MALE CLIENTS ARE ASKED TO WEAR ATHLETIC SHORTS.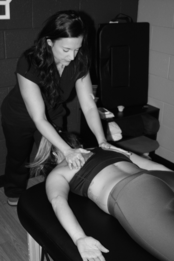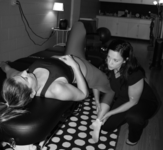 GENERAL PRECAUTIONS
YOU SHOULD NOT RECEIVE MASSAGE IF:
~ INFECTIOUS SKIN DISEASE, RASH, OR OPEN WOUNDS ARE PRESENT
​~ FEVER
~ CONTAGIOUS DISEASES, INCLUDING ANY COLD OR FLU
~ UNDER THE INFLUENCE OF DRUGS OR ALCOHOL-INCLUDING PRESCRIPTION PAIN MEDICATION
~ IMMEDIATELY AFTER SURGERY
~ THOSE WITH OSTEOPOROSIS, PRONE TO BLOOD CLOTS, HEART DISEASE, AND PREGNANT WOMEN SHOULD CONSULT THEIR DOCTOR BEFORE GETTING A MASSAGE​